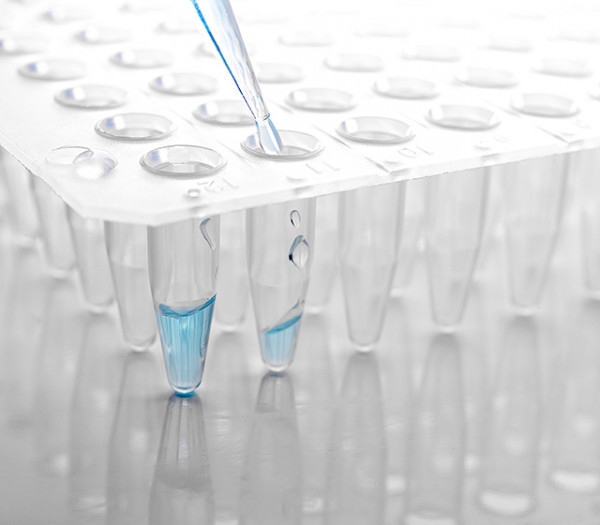 Usage: hover your mouse-pointer anywhere on the image above to see an enlarged portion of the image. You can also just click the image to see the original-sized version.
| | |
| --- | --- |
| Description: | DABCYL-GABA-Ile-His-Pro-Phe-His-Leu-Val-Ile-His-Thr-EDANS (also called Renin Substrate I in some literature) contains a renin cleavage site that occurs in the N-terminal peptide of human angiotensinogen. Cleavage of the substrate occurs specifically at the Leu-Val bond and corresponds to the renin cleavage site of angiotensinogen. This fluorogenic peptide substrate is used to continuously measure the proteolytic activity of human renin. The assay relies upon FRET-mediated, intramolecular fluorescence quenching that occurs in the intact peptide substrate. Efficient fluorescence quenching occurs as a result of favorable energetic overlap of the EDANS excited state and the DABCYL absorption, and the relatively long excited state lifetime of the EDANS fluorophore. Cleavage of the substrate by renin liberates the peptidyl-EDANS fragment from proximity with the DABCYL acceptor, restoring the fluorescence of the EDANS moiety. This leads to a time-dependent increase in fluorescence intensity, directly related to the extent of substrate cleavage. The kinetics of renin-catalyzed hydrolysis of this substrate is shown to be consistent with a simple substrate inhibition model with a substrate Km approximately equal to 1.5 mM at physiological pH. The substrate can detect renin as low as 30 ng/mL after an incubation of only 3-5 min. Abs/Em = 355/500 nm. |
| Order #: | AS-24478 |
| Unit Size: | 1 mg |
| Supplier: | AnaSpec |
| Restrictions: | Only available in Germany and selected European countries. |
| Shipping: | RT |
| Storage: | - 20 °C Darkness |
| Subcategory: | Peptides |
| More information: | Go to webpage |
Datasheet
Flyer or Brochure
262.00 € *
*All prices are net in Euro and do not include applicable taxes, shipping & handling, or other charges (e.g., customs duties).
Delivery time approx. 8 - 10 working days
How To Order

Orders can be placed by phone, fax, e-mail, or via our online shop:

After placing your order, you will receive an order confirmation via e-mail within 2 working days. If you do not receive this e-mail, please contact us by phone. Thank you! More information regarding our ordering process can be found here.

Technical Service - Product Information