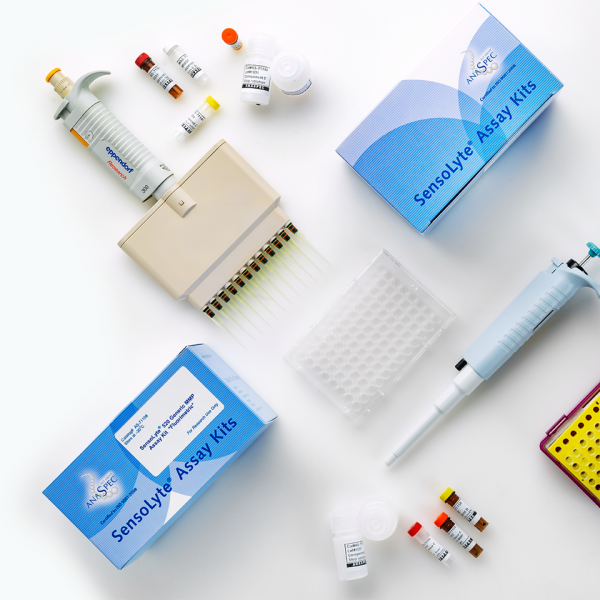 Usage: hover your mouse-pointer anywhere on the image above to see an enlarged portion of the image. You can also just click the image to see the original-sized version.
| | |
| --- | --- |
| Description: | Fluorophore labeled beta-amyloid peptides have been used in investigating beta-amyloid's aggregation, generation and clearance, microglial activation and phagocytosis. The SensoLyte® Fluorescent beta-Amyloid (1-42) Sampler Kit provides three fluorescent beta-amyloid (1-42) peptides, two unlabeled control peptides and biotin labeled beta-amyloid (1-42) peptide. The sampler kit provides ample choices for researchers interested in beta-amyloid related experiments. Alzheimer's Disease (AD) is the most common neurodegenerative disorder in elderly people. It has been demonstrated that AD has biological causes and is characterized by the presence of senile plaques and neurofibrillary tangles mainly in cerebral cortex and hippocampus brain regions. Beta-Amyloid (1-40) (Aβ40) and beta-Amyloid (1-42) (Aβ42) are the main components of the above plaques; however, other forms of beta-Amyloid peptides are also present. Both peptides are cleaved from the Amyloid Precursor Protein (APP) by β-secretase and γ-secretase enzymes. Many studies suggest that Aβ42 or/and Aβ43 are required to initiate formation of amyloid plaques and neurofibrills that leads to the neurodegeneration, while Aβ40 is less neurotoxic. |
| Order #: | AS-72071 |
| Unit Size: | 1 kit |
| Supplier: | AnaSpec |
| Restrictions: | Only available in Germany and selected European countries. |
| Shipping: | 4 °C |
| Storage: | - 20 °C |
| Subcategory: | Enzyme Assay Kits |
| More information: | Go to webpage |
Datasheet
Flyer or Brochure
527.00 € *
*All prices are net in Euro and do not include applicable taxes, shipping & handling, or other charges (e.g., customs duties).
Delivery time approx. 8 - 10 working days
How To Order

Orders can be placed by phone, fax, e-mail, or via our online shop:

After placing your order, you will receive an order confirmation via e-mail within 2 working days. If you do not receive this e-mail, please contact us by phone. Thank you! More information regarding our ordering process can be found here.

Technical Service - Product Information