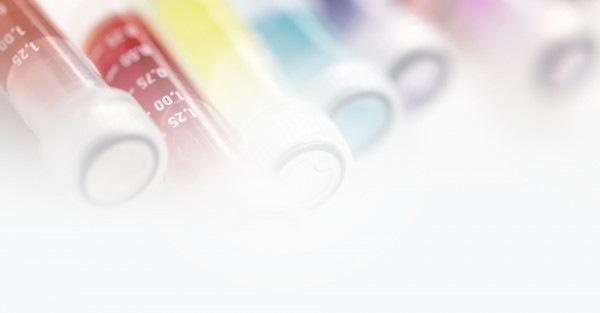 Usage: hover your mouse-pointer anywhere on the image above to see an enlarged portion of the image. You can also just click the image to see the original-sized version.
| | |
| --- | --- |
| Description: | 10-Acetyl-3,7-dihydroxyphenoxazine (ADHP), also called Amplex® Red and Ampliflu™ Red, is not only a sensitive and stable fluorogenic substrate for HRP but also an ultrasensitive probe for H2O2. In the presence of HRP and H2O2, ADHP generates highly fluorescent resorufin that has maximum absorption of 571 nm and maximum emission of 585 nm. Unlike other HRP substrates such as dihydrofluoresceins and dihydrorhodamines, the air-oxidation of ADHP is minimal. So far ADHP has been known as the most sensitive and stable fluorogenic probe for detecting HRP and H2O2. ADHP has been widely used to detect HRP in many immunoassays. On the other hand, Zhou, et al. have demonstrated that ADHP can be used to detect trace amount of H2O2. The ADHP-based H2O2 detection is at least one order of magnitude more sensitive than the commonly used scopoletin assay for H2O2. Because H2O2 is produced in many enzymatic redox reactions, ADHP can be used in coupled enzymatic reactions to detect the activity of many oxidases and/or related enzymes/substrates or cofactors such as glucose, acetylcholine and cholesterol, L-glutamate, amino acids, etc. We offer the best quality of ADHP with the most competitive price. The reagent can be purchased in a single 25 mg vial or can be custom-packaged to meet your special requirements. |
| Order #: | AS-85500 |
| Unit Size: | 25 mg |
| Supplier: | AnaSpec |
| Restrictions: | Only available in Germany and selected European countries. |
| Shipping: | RT |
| Storage: | - 20 °C Darkness |
| Subcategory: | Labeling & Detection |
| More information: | Go to webpage |
Datasheet
Flyer or Brochure
300.00 € *
*All prices are net in Euro and do not include applicable taxes, shipping & handling, or other charges (e.g., customs duties).
Delivery time approx. 8 - 10 working days
How To Order

Orders can be placed by phone, fax, e-mail, or via our online shop:

After placing your order, you will receive an order confirmation via e-mail within 2 working days. If you do not receive this e-mail, please contact us by phone. Thank you! More information regarding our ordering process can be found here.

Technical Service - Product Information