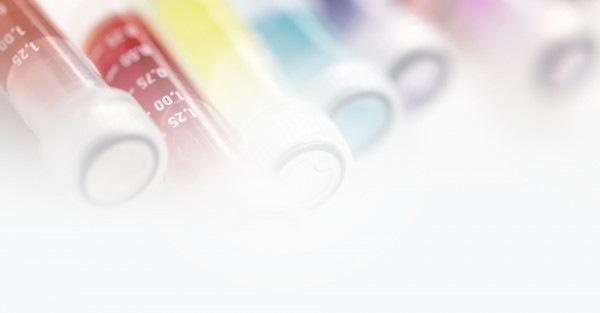 Usage: hover your mouse-pointer anywhere on the image above to see an enlarged portion of the image. You can also just click the image to see the original-sized version.
| | |
| --- | --- |
| Description: | The benzothiazole dye thioflavin T (ThT) is a classic amyloid stain for senile plaques containing βA4 peptide in Alzheimer's disease brain. ThT also binds rapidly and specifically to the anti-parallel β-sheet fibrils formed from synthetic β-amyloid (1-42), but does not bind to monomer or oligomeric intermediates. The fibrillar β-sheet-bound dye species undergoes a characteristic 120 nm red shift of its excitation spectrum that may be selectively excited at 450 nm, resulting in a fluorescence signal at 482 nm. ThT is a useful probe for the aggregated fibrillar state of β?amyloid (1-42) fibrils as the amyloid-specific fluorescence reports only fibrillar species. The binding of ThT does not interfere with the aggregation of this peptide into amyloid fibrils. The putative conformational changes detected by the ThT fluorescence suggest that small pharmacologic ligands can perturb and possibly dissociate Aβ amyloid fibrils. |
| Order #: | AS-88306 |
| Unit Size: | 1 g |
| Supplier: | AnaSpec |
| Restrictions: | Only available in Germany and selected European countries. |
| Shipping: | RT |
| Storage: | - 20 °C Darkness |
| Subcategory: | Labeling & Detection |
| More information: | Go to webpage |
Datasheet
Flyer or Brochure
84.00 € *
*All prices are net in Euro and do not include applicable taxes, shipping & handling, or other charges (e.g., customs duties).
Delivery time approx. 8 - 10 working days
How To Order

Orders can be placed by phone, fax, e-mail, or via our online shop:

After placing your order, you will receive an order confirmation via e-mail within 2 working days. If you do not receive this e-mail, please contact us by phone. Thank you! More information regarding our ordering process can be found here.

Technical Service - Product Information