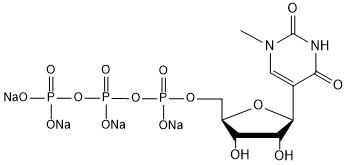 Usage: hover your mouse-pointer anywhere on the image above to see an enlarged portion of the image. You can also just click the image to see the original-sized version.
| | |
| --- | --- |
| Description: | Modified Nucleoside-5′-Triphosphates. Base modified NTPs have been widely used for synthesis of modified mRNA to improve stability and reduce immunogenicity. ABP Biosciences offers a list of key base modified NTPs for mRNA synthesis. N1-Methylpseudo-UTP (N1-Methyl-Pseudouridine-5'-Triphosphate) is a modified NTP for incorporation into messenger RNAs (mRNA) using T7 RNA Polymerase. Incorporation of N1-methylpseudouridine can reduce the immunogenicity of the resulting mRNA. It was reported that N1-methylpseudouridine (m1Ψ) modification alone or in combination with 5-methylcytidine (m5C) exhibited superiority over the current state-of-the-art pseudouridine (Ψ) or m5C/Ψ-modified mRNA platform by providing up to ~44-fold (when comparing double modified mRNAs) and ~13-fold (when comparing single modified mRNAs) higher reporter gene expression in cells and mice, respectively. Moreover, compared with (m5C/)Ψ-modified mRNAs, (m5C/)m1Ψ-modified mRNAs showed reduced intracellular innate immunogenicity and resulted in improved cellular viability after in vitro transfection. Thus, N1-methylpseudo-UTP might serve as a useful ingredient for synthesizing drug able mRNAs with better performance. |
| Order #: | LP009-2-ABP |
| Unit Size: | 50 µL |
| Supplier: | ABP Biosciences |
| Shipping: | Ice Pack |
| Storage: | -20°C |
| Subcategory: | Nucleotides |
| More information: | Go to webpage |
Datasheet
380.00 € *
*All prices are net in Euro and do not include applicable taxes, shipping & handling, or other charges (e.g., customs duties).
Delivery time approx. 8 - 10 working days
How To Order

Orders can be placed by phone, fax, e-mail, or via our online shop:

After placing your order, you will receive an order confirmation via e-mail within 2 working days. If you do not receive this e-mail, please contact us by phone. Thank you! More information regarding our ordering process can be found here.

Technical Service - Product Information