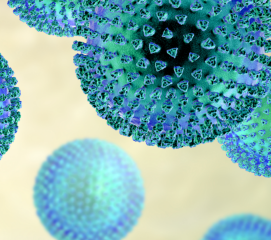 Usage: hover your mouse-pointer anywhere on the image above to see an enlarged portion of the image. You can also just click the image to see the original-sized version.
| | |
| --- | --- |
| Description: | Avian Influenza (bird flu), sub. H5N1 - Avian influenza is an infection caused by avian (bird) influenza (flu) A viruses. These influenza A viruses occur naturally among birds. Wild birds worldwide get flu A infections in their intestines, but usually do not get sick from flu infections. Subtypes differ are based on differences in two main proteins on the surface of the influenza A virus (hemagglutinin [HA], neuraminidase [NA] proteins). There are 16 known HA subtypes and 9 known NA subtypes of influenza A. Each combination represents different subtypes. Highly pathogenic Influenza A (H5N1) virus occurs mainly in birds and can be deadly to them. HPAI H5N1 virus does not usually infect people, but infections with these viruses have occurred in humans. AmpliSens® Influenza virus A H5N1-FRT PCR kit is an in vitro nucleic acid amplification test for qualitative detection of Influenza virus A RNA and identifying of H5N1 subtype in biological material (nasal and oropharyngeal swabs or washes; tracheal aspirate; feces; autopsy material; animal material (bird droppings, cloak, pharyngeal, tracheal swabs, tracheal wash samples, visceral organs from fallen animals)) using real-time hybridization- fluorescence detection of amplified products. |
| Order #: | R-V33(SC)-CE-Ecoli |
| Unit Size: | 55 |
| Supplier: | Ecoli Dx |
| Restrictions: | Only available in selected countries. |
| Shipping: | See Manual |
| Storage: | See Manual |
| Subcategory: | PCR and Real-Time PCR Diagnostics |
| More information: | Go to webpage |
Datasheet
Flyer or Brochure
656.00 € *
*All prices are net in Euro and do not include applicable taxes, shipping & handling, or other charges (e.g., customs duties).
Delivery time approx. 8 - 10 working days
How To Order

Orders can be placed by phone, fax, e-mail, or via our online shop:

After placing your order, you will receive an order confirmation via e-mail within 2 working days. If you do not receive this e-mail, please contact us by phone. Thank you! More information regarding our ordering process can be found here.

Technical Service - Product Information