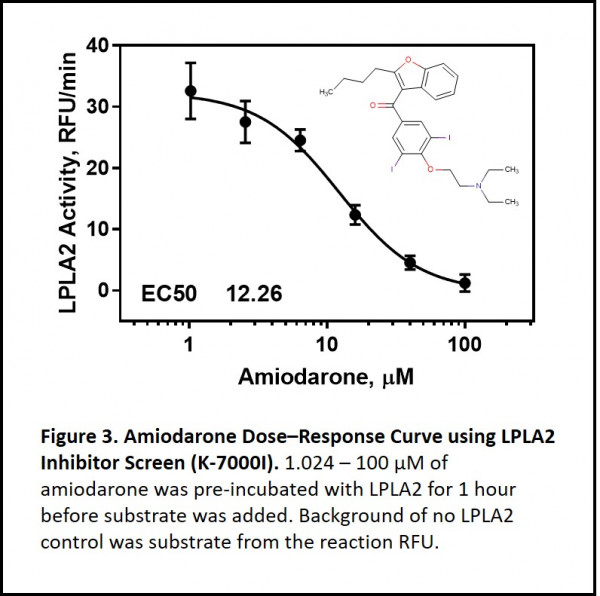 Usage: hover your mouse-pointer anywhere on the image above to see an enlarged portion of the image. You can also just click the image to see the original-sized version.
| | |
| --- | --- |
| Description: | Echelon's LPLA2 Inhibitor Screen is a high throughput assay designed to screen drugs abilitiy to inhibit LPLA2 activity in vitro, a potential predictor of drug-induced phospholipidosis. Sample Volume: 1 "L Sample Number: 128 Samples (in triplicates)/384-well plate Echelon"s LPLA2 Inhibitor Screen (K-7000I) is designed to assay a drug's ability to inhibit LPLA2 activity in vitro, and thus potentially predict DIPL. The assay uses a quenched substrate which fluoresces when hydrolyzed by LPLA2. This direct biochemical approach provides a quantitative measurement in a robust and simple-to-use in vitro plate-based assay, providing greatly increased throughput when compared to traditional microscopy methods of tissue cultured cells. The assay has been validated with a group of known PL-inducing and non-PL inducing drugs. The known PL-inducing cationic amphiphilic drug, amiodarone, is included in the assay as a control Background Human lysosomal phospholipase A2 (LPLA2, also known as Lp-PLA2 or PLA2G15) is responsible for normal lipid metabolism and it is unique from other known PLA2s in that LPLA2 is only active in an acidic environment (~pH 4.5). Phospholipidosis (PL) is a condition resulting from the excessive accumulation of intracellular phospholipids, causing tissue inflammation and organ damage. PL can manifest in patients taking certain cationic amphiphilic drugs (CADs) such as fluoxetine (Prozac", Sarafem) and Amiodarone. The FDA has determined that drug-induced phospholipidosis (DIPL) is a serious drug safety issue and evidence is accumulating that DIPL is the result of certain CADs directly inhibiting LPLA2. |
| Order #: | K-7000I-EAKIT-EC |
| Unit Size: | EA KIT |
| Supplier: | Echelon Biosciences |
| Restrictions: | Available in all European countries, except France & Italy. |
| Shipping: | Dry Ice Or Gel Ice Depending On Destination |
| Storage: | -20 °C |
| Subcategory: | Kits & Assays |
| More information: | Go to webpage |
Datasheet
Flyer or Brochure
Product Image
851.00 € *
*All prices are net in Euro and do not include applicable taxes, shipping & handling, or other charges (e.g., customs duties).
Delivery time approx. 8 - 10 working days
How To Order

Orders can be placed by phone, fax, e-mail, or via our online shop:

After placing your order, you will receive an order confirmation via e-mail within 2 working days. If you do not receive this e-mail, please contact us by phone. Thank you! More information regarding our ordering process can be found here.

Technical Service - Product Information