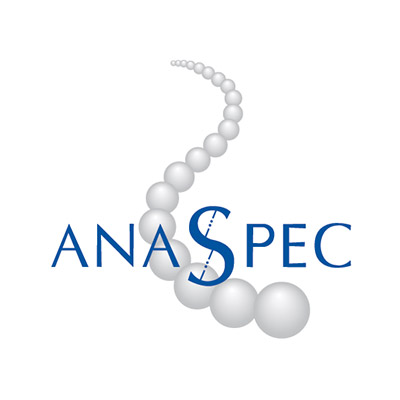 Usage: Hover your mouse-pointer anywhere on the image above to see an enlarged portion of the image. You can also just click the image to see the original-sized version.
| | |
| --- | --- |
| Description: | Cathepsins are a class of globular lysosomal proteases, playing a vital role in mammalian cellular turnover. They degrade polypeptides and are distinguished by their substrate specificities. Cathepsin D is the lysosomal aspartic proteinase, active in intracellular protein breakdown. Cathepsin D is involved in the pathogenesis of several diseases such as breastCancer and Alzheimer disease. The SensoLyte® 520 Cathepsin D Activity Assay Kit uses a QXL® 520/HiLyte™ Fluor 488 labeled FRET peptide substrate for measurement ofEnzyme activity. In the intact FRET peptide, the fluorescence of HiLyte™ Fluor 488 is quenched by QXL® 520. Upon cleavage of the FRET peptide by the activeEnzyme, the increase of fluorescence can be continuously monitored at excitation/emission = 490 nm/520 nm. The fluorescent signal from HiLyte™ Fluor 488 is stable at low pH, which is optimal for cathepsin activity. The kit can be used to detect the activity of Cathepsin DEnzyme in biological samples and purifiedEnzyme preparations. The kit contains:, HiLyte™ Fluor 488/QXL®520-based FRET peptide substrate (Ex/Em=490/520 nm upon cleavage), Assay buffer, Bovine spleen Cathepsin D, Inhibitor, Fluorescence reference standard for calibration, A detailed protocol Kit size: 100 assays (96-well plate) |
| Order #: | AS-72170 |
| Unit Size: | 1 kit |
| Supplier: | AnaSpec |
| Restrictions: | Only available in Germany and selected European countries. |
| Shipping: | Dry Ice |
| Storage: | Component C at -80 °C, all other components at -20 °C |
| Subcategory: | Enzyme Assays |
| More information: | Go to webpage |
Datasheet
480.00 € *
*All prices are net in Euro and do not include applicable taxes, shipping & handling, or other charges (e.g., customs duties).
Delivery time approx. 8 - 10 days
How To Order

Orders can be placed by phone, fax, e-mail, or via our online shop:

After placing your order, you will receive an order confirmation via e-mail within 2 working days. If you do not receive this e-mail, please contact us by phone. Thank you! More information regarding our ordering process can be found here.

Technical Service - Product Information