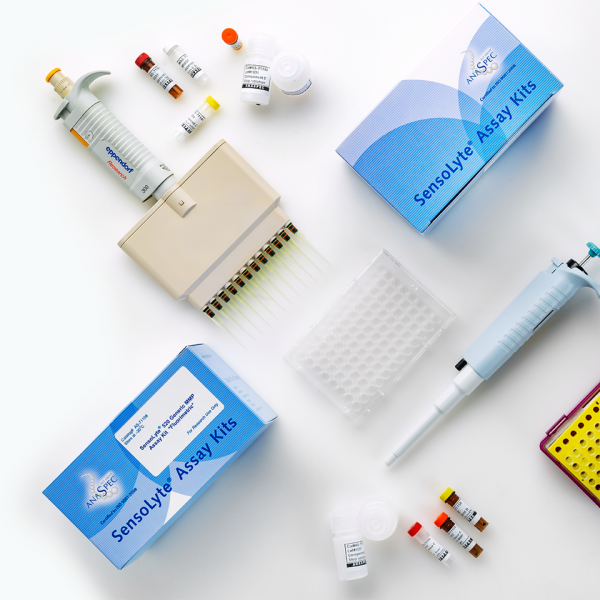 Usage: hover your mouse-pointer anywhere on the image above to see an enlarged portion of the image. You can also just click the image to see the original-sized version.
| | |
| --- | --- |
| Description: | Transglutaminases (TGs) are Ca2+ and thiol-dependent enzymes that catalyze posttranslational modifications of proteins. These covalent reactions include formation of isopeptide linkages between the carboxamide groups of protein-bound glutamine residues and ε-amino groups of protein-bound lysine and polyamine residues, hydrolysis and esterification of glutamine residues.1 Family of TGs includes at least nine members: TG 1-7, coagulation factor XIIIa, and the keratinocyte membrane bound TG form. TG has attracted considerable interest as a potential drug target. Its activity is thought to contribute to Alzheimer disease, Parkinson disease, Huntington disease, and supranuclear palsy. SensoLyte® Transglutaminase Activity Assay Kit provides a convenient assay for the high throughput screening of TG modulators and inhibitors. TG catalyzes covalent bond formation between a free amine group of poly-D-lysine, which is coated on the plate surface, and γ-carboxamide group of glutamine in biotin-TVQQEL peptide substrate. The reaction immobilizes biotin-conjugated peptide to the plate surface. The amount of immobilized biotin is determined using streptavidin-horseradish peroxidase (HRP), 10-Acetyl-3,7-dihydroxyphenoxazine (ADHP), and hydrogen peroxide (H2O2). The non-fluorescent ADHP is oxidized to the strong fluorescent resorufin in the presence of H2O2 by peroxidases, such as HRP. The fluorescence intensity of resorufin is proportional to the activity of TG in a sample. Assay is performed in a convenient 96-well microplate format. |
| Order #: | AS-72245 |
| Unit Size: | 1 kit |
| Supplier: | AnaSpec |
| Restrictions: | Only available in Germany and selected European countries. |
| Shipping: | Dry Ice |
| Storage: | - 20 °C |
| Subcategory: | Enzyme Assay Kits |
| More information: | Go to webpage |
Datasheet
Flyer or Brochure
554.00 € *
*All prices are net in Euro and do not include applicable taxes, shipping & handling, or other charges (e.g., customs duties).
Delivery time approx. 8 - 10 working days
How To Order

Orders can be placed by phone, fax, e-mail, or via our online shop:

After placing your order, you will receive an order confirmation via e-mail within 2 working days. If you do not receive this e-mail, please contact us by phone. Thank you! More information regarding our ordering process can be found here.

Technical Service - Product Information