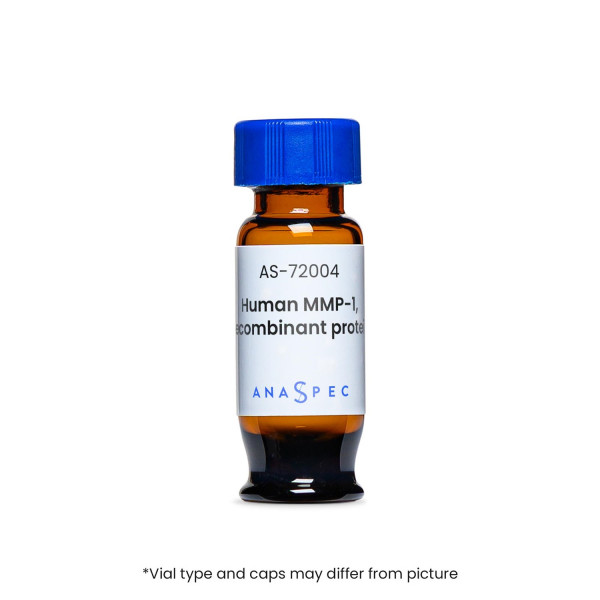 Usage: hover your mouse-pointer anywhere on the image above to see an enlarged portion of the image. You can also just click the image to see the original-sized version.
| | |
| --- | --- |
| Description: | Matrix metalloproteinases (MMP's) belong to a family of secreted or membrane-associated zinc endopeptidases capable of digesting extracellular matrix components. MMP-1 (collagenase-1) is involved in tumor development and metastasis and rheumatoid arthritis. It is proposed as a therapeutic target for these diseases. Native pro-MMP-1 is prepared from culture medium of human rheumatoid synovial fibroblasts. MMP-1 is secreted as pro-enzyme, which consists of a propeptide of 80 amino acids, a catalytic domain of 162 amino acids, a 16-residue linker region, and a hemopexin domain of 189 amino acids. The native pro-MMP-1 has a major Mr 52-kDa unglycosylated and a minor Mr 57-kDa glycosylated form. The proteolytic activation of the 57/52-kDa species will form 47/42-kDa active collagenase, and a 22-kDa C-terminal fragment |
| Order #: | AS-72004 |
| Unit Size: | 100 µl |
| Supplier: | AnaSpec |
| Restrictions: | Only available in Germany and selected European countries. |
| Shipping: | Dry Ice |
| Storage: | - 78 °C |
| Subcategory: | Proteins |
| More information: | Go to webpage |
Datasheet
133.00 € *
*All prices are net in Euro and do not include applicable taxes, shipping & handling, or other charges (e.g., customs duties).
Delivery time approx. 8 - 10 working days
How To Order

Orders can be placed by phone, fax, e-mail, or via our online shop:

After placing your order, you will receive an order confirmation via e-mail within 2 working days. If you do not receive this e-mail, please contact us by phone. Thank you! More information regarding our ordering process can be found here.

Technical Service - Product Information