Montana Molecular - Signal Transduction & COVID-19 Assays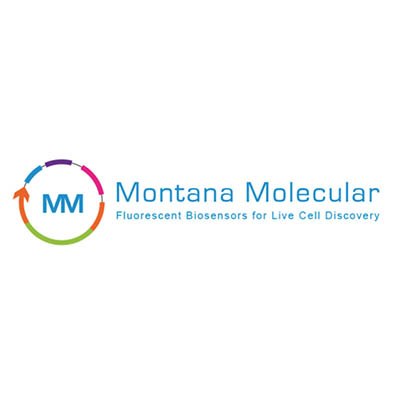 Montana Molecular develops innovative fluorescent biosensors and light-gated enzymes to capture real time signaling in live cells. These live cell assays measure signaling kinetics in practically any cell type to reliably characterize therapeutic effects. Intracellular parameters like cAMP, DAG, PIP2, Ca2+, and voltage can be conveniently assessed. Montana Molecular's proprietary technology is based on BacMam vectors used as an efficient vehicle to optimally deliver and express genes in mammalian cells for robust assays in living cells. This technique is also used for their NEW fluorescent assays to monitor SARS-CoV-2 viral entry.
Unique Fluorescent Biosensors Powering Basic Research on Cell Signaling in Health and Disease

NEW:

Live-Cell Assays for COVID-19 Drug Screening
Benefits:
Simple protocols, fast results, assays do not require specialized equipment or complex steps (e.g., the addition of an enzyme)
Measure multiple second-messenger components of cell signaling pathways in real time and in relevant tissues & cell types
Can be targeted to specific cells in mixed cultures or subcellular organelles
Characterize signaling pathways activated by drugs, e.g., in pancreatic islets, neurons, cardiomyocytes, osteoblasts as well as in standard cell lines
Multiplex GPCR Assays: Gs signaling, Gq signaling, Gi signaling, Voltage
Plate reader or microscope compatible – kinetics or dose response
Benefits using the BacMam vector: controlled expression levels and low cell-to-cell variability, efficient expression in most mammalian cells including primary cells and iPSC cultures
No cell lysis, single channel analysis, no FRET measurement (FRET based biosensors suffer from low signal-to-noise and usually are not compatible with automated plate reader detection)
"The best thing about Montana Molecular's biosensors has been the ease of use"
(Vladlen Z. Slepak, PhD, University of Miami, School of Medicine)
Products:
SARS-CoV-2 Inhibitor Screening / Pseudovirus Neutralization Assay
Fluorescent SARS-CoV-2 cell entry assay based on two components: The first is a BacMam expression vector coding for human ACE2 to transform any cell into pseudo host cells. The second assay component is a SARS-CoV-2 Pseudovirus - a modified BacMam presenting the Spike protein on the surface of the BacMam capsid
Identify therapeutic drugs that block Spike ACE2 binding
No BSL-3 safety requirements
SARS-CoV-2 vaccine development: Screen for SARS-CoV-2 neutralizing antibodies to spike protein and emerging spike variants (2nd generation pseudoviruses for SARS-CoV-2 variants are on the way!)
Studying the mechanism of virus-receptor interaction
BacMam is high-titer and more cost-effective to use than Lentivirus-based assays (Spike-Pseudotyped Lentivirus)

First cell based 3CLpro assay available on the market:

Screen protease inhibitors in live cells; capture physiologically relevant dose response in living cells
Read more
GPCR Biology
G-Protein Coupled Receptors (GPCRs) are one of the largest receptor families in the genome and are essential for the healthy function of nearly every organ in the body
Detect kinetic Gs, Gi, and Gq mediated responses in living cells
Combine multiple assays in the same cell population
Express sensors and run assays in disease relevant cell types
Sounds intriguing? Get more details on each of Montana´s specific GPCR Signaling Assays: Live Cell cAMP Assays, DAG: Live Cell Diacylglycerol Assays, Live Cell PIP2 Assays, Live Cell Calcium Assay Kit
Read more
Phosphodiesterase Biology
Cyclic nucleotide phosphodiesterases (PDEs) are important drug targets with unique tissue distribution and functional properties
This family of enzymes is key in the regulation of cyclic nucleotide second messenger levels because they degrade both cAMP and cGMP
Detect changes in intracellular cAMP and cGMP (cADDis cAMP Assay, GENIe cGMP Assay)
Screen for PDE Inhibitors
BacMam-mediated expression in disease relevant cell types
Read more
Cell Stress & Toxicity
A robust, reversible biosensor for ER-stress and the Unfolded Protein Response (UPR)
Ideal for use in primary cultures or iPSC-derived neurons or cardiomyocytes
Combine with a red cADDis, GECO Ca2+, or DAG sensor to simultaneously monitor second messenger signaling
Read more
Neurodegeneration
Examine ER stress, the UPR, and signaling biology in cells directly affected by neurodegenerative disease
Identify and optimize therapeutic compounds and express mutant proteins related to neurodegeneration
Read more
Drug Discovery & Screening
Optimize your leads, run second order screens, conduct SAR studies, and introduce drug targets to your cells
Fluorescent assays and BacMam-packaged drug targets are powerful tools in the drug discovery process, particularly in secondary screens and lead optimization
Single color, kinetic, fluorescence intensity-based assays (non-FRET) with high compatibility on fluorescent plate readers
Capturing kinetic data in drug screening enables researchers to prioritize lead compounds by generating reliable metrics for potency, efficacy, partial and biased agonism
Read more
Optogenetics
Non-invasive manipulations of intracellular processes have recently appeared as an emerging research field. Now there are tools that enable you to use light to control cellular signaling as well as watch it. Montana Molecular provide an Optogenetic toolkit to optically elevate intracellular cAMP, measure changes in cAMP and calcium, and create excitable HEK cells.
Read more
Diabetes Research
Gain insight into diabetes disease mechanisms and GLP-1 receptor pharmacology with bright fluorescent biosensor assays
Examine biased agonism at the GLP-1 receptor in cell models and GPCR second messenger signaling in pancreatic islet cells
Read more
Custom BacMam Vectors
Many researchers are switching from plasmid transfection, stable cell lines and other viral vectors to using the BacMam system in their cells of choice because of its many benefits:
BacMam is a BSL-1 modified baculovirus vector which efficiently transduces most mammalian cells – including primary cultures, cell lines, and iPSC derived cells
BacMam has been used for years to transiently deliver target receptors, genetically-encoded biosensors and other constructs in cells of interest
BacMam is silent in mammalian cells
Consistent, titratable expression
Simple workflow and versatility
Read more
iPSC-Derived Cell Assays
All Montana Molecular's assays are compatible with use in iPSC-derived cells.
Read more
YouTube Videos
MM Protocol Movie Part 1: Transduce Cells
MM Protocol Movie Part 2 Plate Reader Setup & Running Experiment
cADDis cAMP Assay in HEK293
GENIe Indicates Changes in cGMP
ArcLight Voltage Sensor
GECO Indicates Changes in Calcium
Cardiotoxicity Assay in iPSC Derived Cardiomyocytes
Live-Cell Detection of Cell Stress and Toxicity in iPSC Derived Neurons
Fluorescent Live Cell Stress Assay
Quantifying Bias is Easier than You Think
Please Browse Montana Molecular Products: