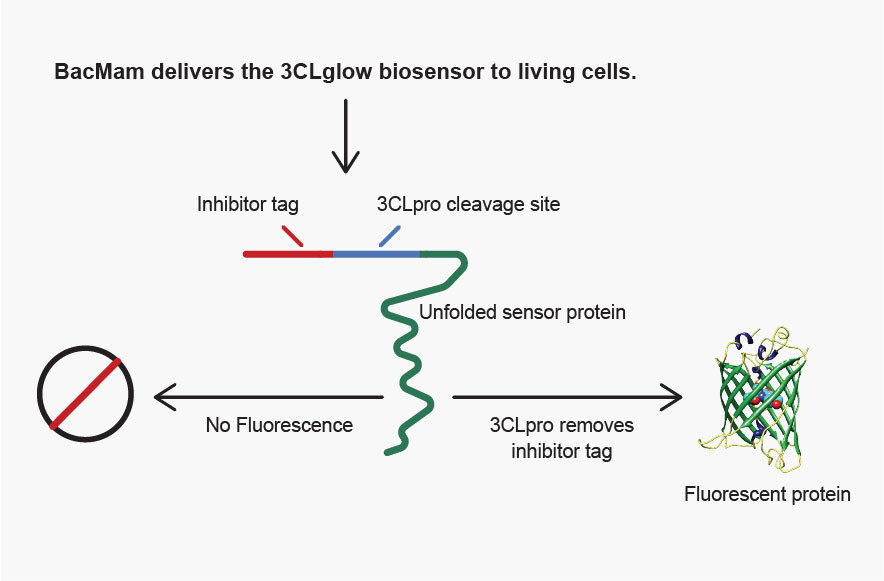 Usage: hover your mouse-pointer anywhere on the image above to see an enlarged portion of the image. You can also just click the image to see the original-sized version.
| | |
| --- | --- |
| Description: | A live cell assay for SARS-CoV-2 3CLpro enzyme activity and inhibition. The 3CLglow assay kit produces bright green fluorescence in the presence of 3CL protease activity in living cells: • Fluorescent biosensor for 3CLpro activity • 3C-like protease (3CLpro, Mpro, or Main protease) is essential for SARS-CoV-2 replication • Identify protease inhibitors that target SARS-CoV-2 replication • Cost effective screening with minimal safety requirements (BSL-1) ‖ The 3CL protease of SARS-CoV-2, also known as "Main protease" is crucial to viral replication. Drugs that specifically inhibit this enzyme have enormous potential as therapeutics. The structure of the enzyme has been well characterized making it possible to screen for potential inhibitors in silico through docking. High throughput assays for 3CLpro inhibitors that rely upon recombinant, purified enzyme and fluorescent substrates can be used to either test compounds identified with in silico screening, or to screen libraries of new compounds. However, these biochemical assays lack cellular context and biological relevance (Vincent et al. 2015). In contrast, 3CLglow reports activity in living cells and captures physiologically relevant dose response information. The 3CLglow assay can validate hits from biochemical assays, or it can be used in automated primary screening. 3CLglow identifies inhibitors that can enter living cells, block the 3CLpro enzyme (even in a subcellular compartment) without killing the cells, providing an important bridge between biochemistry and animal models. |
| Order #: | C1160G-005 |
| Unit Size: | 5 ml Kit |
| Supplier: | Montana Molecular |
| Restrictions: | Available in all European countries. |
| Shipping: | Cool Pack |
| Storage: | 4 °C |
| Subcategory: | SARS-CoV-2 Proteases |
| More information: | Go to webpage |
Datasheet
638.00 € *
*All prices are net in Euro and do not include applicable taxes, shipping & handling, or other charges (e.g., customs duties).
Delivery time approx. 8 - 10 working days
How To Order

Orders can be placed by phone, fax, e-mail, or via our online shop:

After placing your order, you will receive an order confirmation via e-mail within 2 working days. If you do not receive this e-mail, please contact us by phone. Thank you! More information regarding our ordering process can be found here.

Technical Service - Product Information