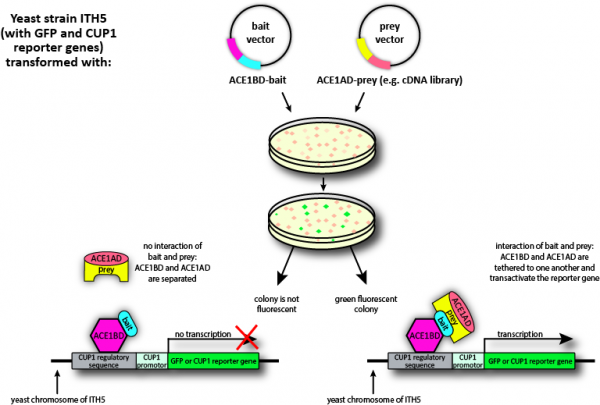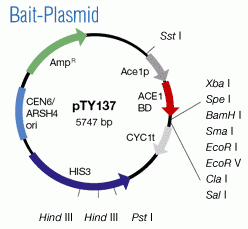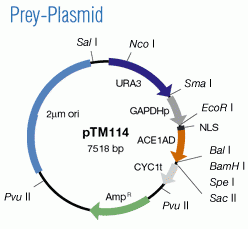 Usage: hover your mouse-pointer anywhere on the image above to see an enlarged portion of the image. You can also just click the image to see the original-sized version.
| | |
| --- | --- |
| Description: | Grow´n´Glow ACE1 Yeast Two-Hybrid System - Detection of Protein-Protein Interactions. The yeast two-hybrid system is an intelligent versatile genetic approach for the detection of protein-protein interactions in vivo. It depends on the ability of specific separated DNA binding and transactivation domains to reconstitute an active transcription factor complex if interacting proteins are fused to these domains. Clones expressing interacting proteins are consequently detected through the activity of reporter genes. MoBiTec´s ACE1 Two-Hybrid System is a powerful tool for gene discovery and functional analysis and very useful for efficiently identifying protein-protein interactions in vivo. It combines the advantages of the copper-inducible transcription factor ACE1 and the copper resistance-mediating CUP1 gene with the proven green fluorescence protein (GFP) as reporter. Interaction of two proteins fused to the DNA-binding and transactivation domains of ACE1, respectively, can be consequently detected by 1) growth of the cells on copper-containing media and 2) the copper-dependent expression of the strongly-fluorescent GFPuv which renders those colonies to fluoresce brightly green under UV light. Thus, this innovative technique greatly facilitates an efficient one-step selection of potential positives expressing interacting proteins in copper-containing media and under UV light. It allows a fast, highly sensitive and more reliable monitoring of protein interactions in living cells because interacting clones are identified by a growth selection as well as a strong fluorescence signal. Changing the copper concentration allows to select for different protein-protein interaction strengths. Features: Allows to select for different protein-protein interaction strengths • More efficient detection of protein interactions in vivo by the copper-inducible CUP1/ACE1 system • Fewer false-positives by stringent selection for copper-resistance • Improved time-saving selection of positives with the well-established advantageous GFP reporter • No requirement for external substrates such as X-Gal when screening for positives • Suited for the development of high-throughput screening assays |
| Order #: | ACE01 |
| Unit Size: | Kit |
| Supplier: | MoBiTec GmbH |
| Shipping: | Dry Ice |
| Storage: | mixed; -80° C and 4° C |
| Subcategory: | Two- and One-Hybrid Systems |
Datasheet
1,059.00 € *
*All prices are net in Euro and do not include applicable taxes, shipping & handling, or other charges (e.g., customs duties).
Delivery time approx. 8 - 10 working days
How To Order

Orders can be placed by phone, fax, e-mail, or via our online shop:

After placing your order, you will receive an order confirmation via e-mail within 2 working days. If you do not receive this e-mail, please contact us by phone. Thank you! More information regarding our ordering process can be found here.

Technical Service - Product Information