ProFoldin: Drug Discovery, Drug Delivery, Biochemical Assays, and Membrane Protein Sciences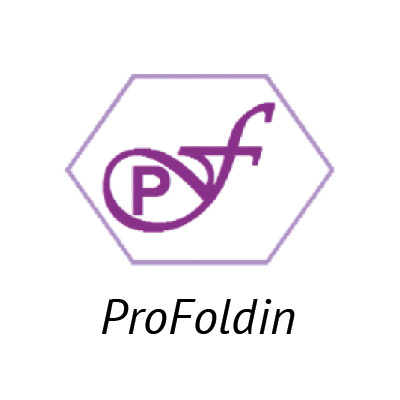 ProFoldin provides innovative and unique research tools for life sciences and drug discovery, focusing on the following fields: drug target enzyme assays, concentration measurement of various molecules and ions, liposome and nanodisc products, protein folding, extraction and reconstitution tools, molecular binding and separation products. The assays are suitable for high throughput screening (HTS). ProFoldin also offers assay services, including custom assay development, enzyme activity tests, screening of compound libraries, and IC50 measurements.
Featured Products → Topoisomerase Assays
Topoisomerases are Important Targets for Cancer Chemotherapy Treatments & Antibiotics
Topoisomerases are nuclear enzymes that play essential roles in DNA replication, transcription, chromosome segregation, and recombination.
These enzymes are altering the topological state of DNA; they are capable of relaxing supercoiled DNA and of decatenating interlocked DNA.
ProFoldin offers a great selection of high-throughput assays for all topoisomerase functions, including DNA relaxation, DNA supercoiling, DNA decatenation, and ATP hydrolysis.
For topoisomerase characterization, drug testing, and high-throughput screening (HTS) of topoisomerase inhibitors
Fluorescence-based assays in 96-well or 384-well plate format
General topoisomerase assays and assays for human and bacterial topoisomerases
Gel-based DNA supercoiling, DNA relaxation, and DNA decatenation assays for visualizing the DNA topoisomerase products on agarose gels
Also available: Topoisomerase enzymes and DNA substrates

COVID-19 Research
In collaboration with NIH, ProFoldin has successfully developed a high-throughput assay for SARS-CoV-2 RdRp. The assay can be used to
Detect SARS-CoV-2 RdRp activity of purified enzyme samples
Test SARS-CoV-2 RdRp inhibitors – screening compounds and IC50 measurement
COVID-19 is caused by the infection of SARS-CoV-2, or severe acute respiratory syndrome coronavirus 2, a positive-sense single-stranded RNA virus. The RNA dependent RNA polymerase (RdRp) is a key drug target for this virus. The functional SARS-CoV-2 RdRP is composed of a complex of the nsp12, nsp7, and nsp8 proteins. The SARS-CoV-2 RdRP assay is based on the detection of RNA molecules synthesized by SARS-CoV-2 RdRP in the presence of a primed RNA template, ATP, UTP, GTP, and CTP. It is a fluorescence-based assay in a 384-well or 96-well plate format. The assay procedure is simple – mixing the reagents, incubating the reaction, and reading the fluorescence. It is suitable for testing compound collections of all sizes from a few inhibitors to compound libraries. It can be employed for compound screening and IC50 measurement of SARS-CoV-2 RdRp inhibitors.
Also available:
Gel-Based SARS-CoV-2 RdRp Assay Kit:
The gel-based assay can be used for visualization of RNA molecules synthesized by the RNA polymerase. It can also be used to visualize enzyme inhibition by RdRp inhibitors. The gel-based assay outcome is consistent with the high-throughput fluorescence-based assay. Therefore, it is a useful tool for confirmation of the inhibition rates of the high-throughput screening.
High-Throughput Assays for Drug Targets and Enzymes
ProFoldin offers high-throughput assays for validated drug targets. The assays are used for inhibition tests or IC50 measurement of compounds against specific drug target proteins and enzymes. The assays are in 96-well or 384-well plate format. The validated drug targets are enzymes of various biological systems, including DNA replication, gene transcription, gene regulation, cell membrane synthesis, and other metabolism processes which are essential for growth of bacterial and cancer cells or virus replication.
Enzymes and Substrates
ProFoldin also provides enzymes, DNA, enzyme substrates, and detection dyes separately for drug target protein characterization, assay optimization, and HTS needs.
Concentration Measurement of Molecules and Ions
Concentration measurement is an essential need in all laboratories from life sciences to chemistry both in academia and industry. Concentration assays for biomolecules are basic for the characterization of biological processes involving enzymatic reactions or translocation of biomolecules. ProFoldin offers high-throughput assays for various molecules and ions. The assays are used for concentration measurement of chemicals, drugs and ions in pharmaceutical compounds, environmental samples, buffers, and biochemical and chemical reactions. The assays are in 96-well format and based on fluorescence or light absorbance detection.
Assays are available for various biomolecules, including DNA, protein, ADP, UDP, GDP, histidine, cysteine, other amino acids, peptides, CoA, lipids, and phospholipids. ProFoldin also offers concentration assays for various organic and inorganic molecules, ions and drug molecules, including DTT, EDTA, detergent, detergent CMC, SDS, phosphate, polyphosphate, sulfate, chloride, Zn2+, Cu2+, Co2+, Ni2+, penicillin drugs, polypeptide drugs, Cisplatin and Oxaliplatin drugs.
Protein Folding, Extraction, Purification, and Analysis
ProFoldin is the leading company in protein folding technology. Since 2005, ProFoldin's protein folding columns have been widely employed to make active proteins from inclusion bodies.
Applications:
Fold proteins from inclusion bodies
Fold membrane proteins from inclusion bodies
Extract membrane proteins from cell membranes
Membrane protein reconstitution in nanodiscs
Evaluate protein thermal stability
Molecular Binding
Highly charged 96-well plates are available for DNA or protein binding. The biological molecule-bound plates can be used to study the interactions between the bound molecule and other molecules. They can be used for ELISA or interaction studies between nucleic acids or/and proteins.
Molecular Separation
Kits are available for removal of DNA/RNA, phosphate, or salt.
Liposome
Using ProFoldin's nanotechnology, various liposomes and nanodiscs can be produced in scales suitable for all research projects and industrial production. ProFoldin offers the following liposome products:
Liposome purification and stability assay kits
Ready-to-load liposomes for drug delivery
Drug-loaded liposomes
Liposomes loaded with dyes, ions, and biomolecules
Nanodiscs and liposomes for membrane protein reconstitution
Nanodiscs
Detergent-Free Solubilization of Membrane Proteins
Styrene-maleic acid (SMA) copolymers are broadly used for function and structure studies of membrane proteins. The significant advantages of using SMA copolymers include (1) generating a detergent-free system and (2) forming bilayer nanodiscs with phospholipids. Application of SMA copolymers opens an avenue of membrane protein extraction from cell membranes and proteoliposomes in the absence of detergent. The extracted membrane proteins are stabilized in the nanodiscs that mimic the bilayer structure of lipids in nature.
Benefits
Structural and functional studies on membrane proteins in a near-native environment
Prevents protein misfolding or aggregation
Unlike detergents, which tend to strip away most or all lipids in the direct environment of a membrane protein, SMA extracts proteins in form of a lipid/protein nanodisc
Enables the study of protein-lipid, protein-protein, and protein-ligand interactions
ProFoldin's SMA copolymers are optimal for nanodisc formation:
Styrene:maleic acid ratios of 2:1 or 3:1 are the best for membrane proteins
Molecular weights of 8 kDa and 10 kDa are ideal for nanodisc formation
Pre-hydrolyzed and ready to be dissolved in common buffers
No need for pH adjustment
Please Browse ProFoldin Products:
No results were found for the filter!