UBPBio: Accelerate Discoveries on the Ubiquitin-Proteasome System and Related Pathways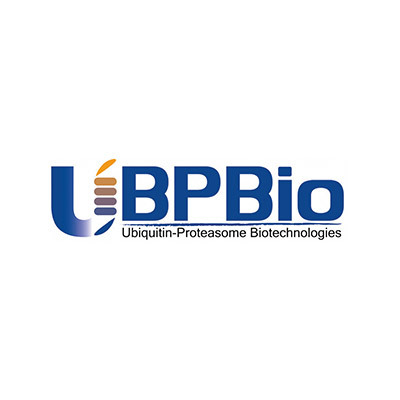 UBPBio is a leading supplier in the ubiquitin-proteasome field. They manufacture and sell high-quality reagents for studying the ubiquitin-proteasome system and the programmed cell death. Furthermore, they provide reagents for recombinant protein expression and purification.
Ubiquitin-Proteasome System
The ubiquitin proteasome system (UPS) degrades individual proteins in a highly regulated fashion and is responsible for the degradation of misfolded, damaged, or unneeded cellular proteins. The UPS plays a critical role in essentially every cellular process, including cell cycle progression, transcriptional regulation, genome integrity, apoptosis, immune responses, and neuronal plasticity. At the center of the UPS is the proteasome, a large and complex molecular machine containing a multicatalytic protease complex. When the efficiency of this proteostasis system is perturbed, misfolded and damaged protein aggregates can accumulate to toxic levels and cause neuronal dysfunction, which may underlie many neurodegenerative diseases. In addition, many cancers rely on robust proteasome activity for degrading tumor suppressors and cell cycle checkpoint inhibitors necessary for rapid cell division.
Cover the ubiquitin-proteasome system, cell death/survival pathways, autophagy pathway, inflammatory pathways, etc. with UBPBio's unique product portfolio:
Proteasomes / Activators / Subunits
E1 Activating Enzymes
E2 Conjugating Enzymes
E3 Ubiquitin Ligases
Ubiquitin / SUMO Chains
Ubiquitin / Ubiquitin-like Proteins / Mutants
Deubiquitinating Enzymes
Ubiquitin / UBL Derivatives
Proteasome / Deubiquitinase Inhibitors
Fluorescent Peptide / Protein Substrates
Ubiquitin Binding Proteins
Antibodies
Kits
Protein Expression / Purification Reagents
DNA/Protein Ladders
Please Browse UBPBio Products: